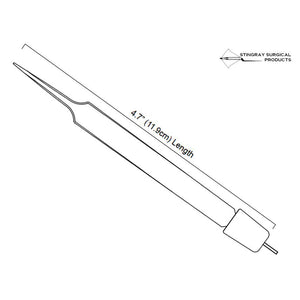 Jewelers Straight Bipolar Forceps - 4.7"
Regular price $290.00 Sale
Stingray Surgical manufactures the largest selection of Non-Stick, Titanium, and Stainless Steel Bipolar Forceps patterns in the world. Stingray's non-stick bipolar forceps are designed with solid silver alloy tip and have a high level of thermal diffusion which prevents sticking and charring during coagulation of tissue. The silver alloy non-stick tips allow the surgeon to complete a coagulation procedure without frequently wiping the tips.
4.7" (11.9 cm) Length
Standard blue coating - Stainless Steel & Titanium
Standard black coating - Silver Alloy Tips
Other colors available upon request at additional cost
Laser etching available upon request at additional cost
Don't see what you're looking for? Want other colors or etching? Let us know!